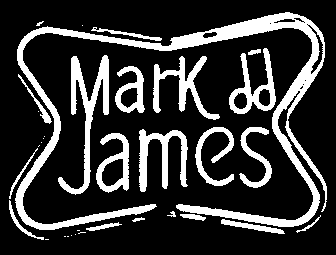 TropicalDreams.net
Artist of The Month April 2006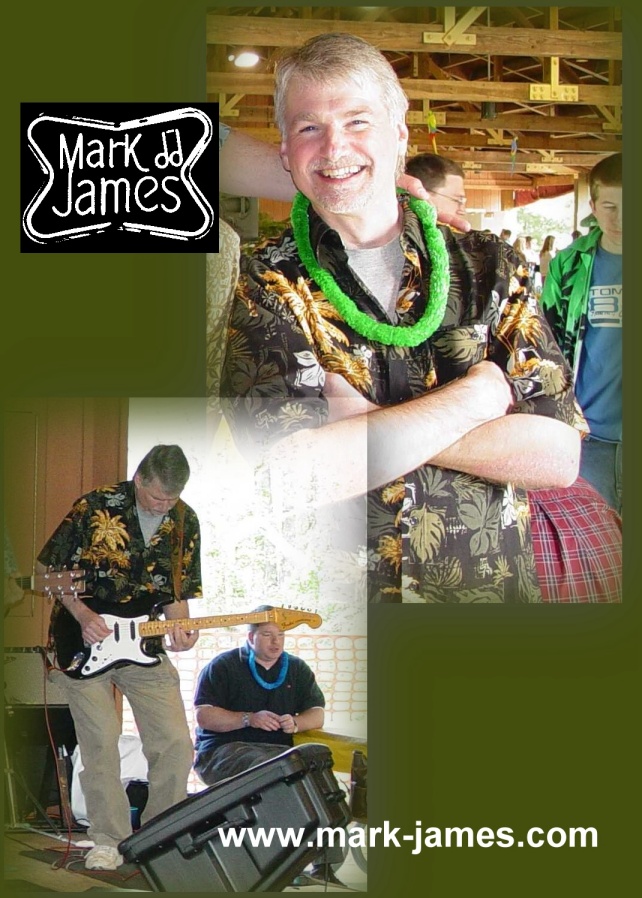 Interview with Mark James
- As told to the Old Parrothead - Billy Peoples
Q. Where is your home port?
A. Originally, I was born and raised in Reading, PA. As of this interview,
I have been living in a small town called Macungie, PA - which I truly love.
Sometime before I die, I would like to have lived in the Keys, or at least
in Florida - even if just for a short time. However I have always felt most
at home when I'm on the road.
Q. How did you get started in your musical career?
A. My first performing gig was actually playing snare drum for a gospel
group called the Churchmen And Teresa out of Harrisonburg, WV. My brother
and I would catch the tour bus on a Friday night in Carlisle, PA with the
bass player and we would travel until Sunday night. I was in 11th grade and
it was the coolest thing in the world. They ended up liking the concept of
drums and hiring a professional drummer. I was crushed. Later that year I
saw Aerosmith at the Harrisburg Farm Show Arena and that was the end of it -
I could think of nothing but performing music from that point forward. I
shocked my parents. The following year at my girlfriend's prom on local TV. They were
interviewing the prom couples for the High School TV show and when asked
what was my goal in life, I replied "to tour the Holiday Inn circuit
playing music." Just the previous year, the yearbook said Engineering
Drafting. That didn't go over well.
Q. How long have you been in this business?
A. If you count the gospel group tours in 1974-75, 30 years, but I didn't
go full time until after my divorce in 1982, which would be 24 years.
Q. Who or what influenced your music the most?
A. That's tough, because I love so many different styles of music from
Larry Carlton to Eric Clapton. To go back to my roots, I think my core
style came from Larry Goshorn's work with the Pure Prairie League (post Amy)
and smoothed out as I "matured." I really loved those albums that did not
make East Coast radio. From a personal exposure standpoint, my biggest
influence was Fred Bernardo. Back when Fred's Music was on 9th Street in
Reading, Fred would be out front in his shop playing one of the latest
gadgets that came in or some vintage trade-in, and he would just make any
guitar sing. He was god, that was church. Sadly, those days are gone. My
most influential all around music education was from Bobby Mercer. Bobby's
band was musical boot camp. Everyone on the band was schooled and seasoned.
As a guitar player on a guitar player's band, my position required me to
learn trumpet, flugel horn and read bass charts for the monthly big band
jobs. I still maintain the bass. THAT opened up the entire playing field.
From a musician's lifestyle, the obvious answer is Jimmy Buffett. My "songs
you know by heart" came from "You Had To Be There" on 8 track. NOBODY
commands a crowd or "lives the life" like Jimmy. I hope you weren't looking
for short answers.
Q. What type venue do you prefer?
A. My biggest favorite is Outside - fairs, carnivals and concerts with a
band. As a solo, medium sized events with a stage. Generally, any gig
where the people have come to hear you play and don't talk. That doesn't
mean it has to feel like an opera. I love it when people get into the show
and respond. I enjoy the banter and interaction of working the crowd, but I
detest the bar syndrome where the entertainment is a glorified jukebox. I
use this story a lot: When I started out, I used to sit in with a solo by
the name of Dave Cody. We would get to the venue, and the manager would
show us to the stage area. We would set up and, when it was time to play,
the background music and TV went off, the lights would dim, the crowd quiet
down and the show would start. If someone was talking at a table too loudly
during the show, the manager went over to them and said "Shhhh, he's
playing." NOWADAYS, you get to the gig and there are three tables with
customers eating where you are supposed to perform. When that's finally
cleared away you have 15 minutes to set up. The jukebox is playing while 5
TVs are showing every sport currently going on around the world. You tell
the bartender you're ready to start - he'll "get around" to turning the
background down. You finally start and the manager comes over to you and
says, "Shhhh, they're talking." Go figure. As a solo, that was murder.
That syndrome took me out of music for a while. It really killed the whole
magic of live musicians making music. I'm really enjoying the sideman thing
again and working and creating with the band members.
Q. What are your goals for the future?
A. I would like to earn the respect of my peers, meet some of my heroes,
and record something worth listening to for a long time.
Q. How many CDs do you have to your credit?
A. My earliest material was on cassette only. As a solo, I recorded a
bandstand sale only collection of covers called "Songs I Wished I'd Written"
and a 5 song EP made it to CD titled "Mark James Live At The Stateliner."
That was a board mix to MD which yielded some soulful, but very live,
material including a great version of Mr. Bojangles with John Frinzi and I
swapping verses. There was this elusive CD called "Late At Night" which was
going to showcase my original material. It was referred to as "currently in
production" on all my promo material for the college circuit. That was 10
years ago. I think it's still "in production", but it's NOT on CD. One of
the first original songs I wrote, Missing You, was captured live at MOTM
2003 and was featured on the "One Particular Harbor" Commemorative VCD. As
a studio guitarist, starting around 1978 there was Jeff Pine - Wild Man's
Weekend, Bobby Mercer Live At The Florida State Fair, Bobby Mercer Party
Time, I played bass on the studio recording of the Bobby Mercer Big Band
Featuring Frank Consolo, Rock guitar on the Vince Rollins CD, produced and
played guitar on 2 singles for Dave Noble - Boulevard Of Broken Dreams and
Water Into Wine, and guitar for a few tracks on John Frinzi - Not Looking
Back. (I have tons of live recordings from all the way back in 1978 to the
present - my Box Set would be an orange crate.) Pending work, there are
plans for a new CD with the John Frinzi Band including Coral Reefer Doyle
Grisham and other notable guests. I would also hope to have a new solo CD
completed for sale at MOTM in Key West.
Q. Is there anything you would like people to know about you?
A. My first paying gig was with my brother, Craig, at the Sunnybrook
Ballroom in Pottstown, PA for the Boscov's Sight and Sound Expo. We were
introduced by Jerry Blavett (the geeter with the heater) as the Leister
Brothers (my real last name). It is his 1973 Strat with EMGs which is still
my main guitar for live and studio work. He gave it to me in pristine
condition when his path took him into computers and mine went into music. I
just got him up to sit in with me again at a ski resort gig in February.
That was special. I've also been performing in an Educational Music In The
Schools program called "Having Fun With Music" which has been an incredibly
rewarding experience. Mostly geared toward middle and high school students,
each of the 8 members of the band has a feature and a message to express the
role that music has played in their lives. I am the youngest guy on stage
(although Dave Stahl insists HE is) and our lineup has included musicians up
to the age of 80 (Sam Marabella would say that in the portrait of The Last
Supper, he's the second guy on the left). My message is "Do what you love
and you will never work a day in your life" and my feature is "I Feel Good"
by James Brown which closes the show with a roar. Last week a girl came up
to the band at lunch and said that we inspired her to pick up the flute
again. I thought that is why we do this. In addition to my music, I own my
own business, MicroChip Music, which sells music software and hardware. I
was the first guy in Reading to be performing solo live with a computer on
stage. I eventually became a Microsoft Certified Professional and have been
relatively successful with computer consulting. Computers are incredibly
consuming, however, and I would rather play guitar. MicroChip Music will be
evolving back to the Music Business direction. On the personal side, I love
to ski, race and fly. I have a beautiful 24 year old daughter, Shannon, of
whom I am very proud and an equally beautiful girlfriend, Lisa, who is
extremely tolerant of my unorthodox lifestyle. Someday I would like to
write a book, a screenplay and produce a movie. I also LOVE to talk, thanks
for listening.
--
Billy H. Peoples - 135 Ganey Lane - Satsuma FL 32189 - (386)328-6118
"At My Age, I've Seen It All, Done It All, Heard It All...
I Just Can't Remember It All"